Look good, feel good, train good: active wear to rival your London female personal trainer
I remember when going to the gym in an old pair of shorts and a football shirt was kosher. Now, looking good, particularly for women who like to workout, is just as important as what exercises you are seen doing!

There are some potential training benefits to this new trend though! After all, looking good makes you feel good and feeling good can boost motivation for your session. Just ask your personal trainer!


The UK activewear industry is worth somewhere in the region of £3 billion and there are so many options out there for the style conscious gym goers among you. From premium retailers to high street all rounders and mass market outlets, there is a range of quality and price points on offer…


Here are some of the best stores in each of those categories to help you make the best choice for your budget!


1. The premium retailers
High end activewear is a serious business and two of the biggest players in the marketplace are London founded Sweaty Betty and Vancouver born Lululemon!


Sweaty Betty (left side), Lululemon (right side)

The brainchild of Tamara Hill-Norton, Sweaty Betty supply premium leisure wear for the fashion and health conscious women out there. With over 60 shops worldwide, including a flagship store on Carnaby Street, the brands mission to empower women through fitness is going fairly well!


Lululemon, offers a similar activewear vibe. Originally designing apparel for women to wear during yoga, the brand has evolved to include products for running, cycling and general training for both men and women.


If you're after top end, high-quality training gear which lasts, and you don't mind paying for it then these pioneers of the activewear industry are definitely worth checking out!


If it helps, your personal trainer is almost certainly dressed head to toe in one of these brands.

2. High street all rounders
High street stalwarts like H+M, River Island and Topshop are becoming increasingly big players in the activewear industry, offering affordable alternatives to the pricier boutique style options we've already discussed.

H+M (left side), River Island (middle), Topshop (right side)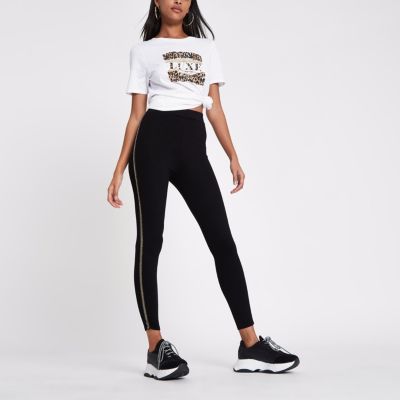 If you're after neutral colours which look great in and out of the gym and decent value for money then H+M is probably your best bet. For the slightly more style adventurous among you, River Island and Topshop both offer good quality standout activewear lines.

Why does Decathlon get a section all to itself I hear you ask…? Well, the answer is simple. You can find literally anything related to outdoor activities and sport all under one roof and for unbelievable prices. A great place to check out if you're just getting started with your personal trainerr, or you just need to replace a few stock training items without breaking the bank!


The world of active wear is your oyster. Whatever your budget, level of training experience, or fashion sense, there should be something on this list for you!





BACK